Friday 10 May 2013, at Gallow's Bird
It was dark night around September – October 2012, when we sat at Gallow's Bird, in Niittykumpu (that is the best pub for quality beers in Espoo, Finland, for those who don't know.) with a couple of friends. As always, the best ideas are born at these occasions. When the world was healed we came up with a Great Plan for a Road Trip in the US. For some reason I've always wanted to see the coast line of the Mexican Gulf. I've no idea what is there – and it seems that no-one is traveling there, so it must be a perfect destination.
The idea was almost forgotten until a couple of months ago, when we decided with my friend Mikko to realize the road trip – and bought the flight tickets. I also acquired a permission from home for the A-class trip. Mikko is currently in the fortunate state of having no need to negotiate with family, so he didn't need to do much else than ask for vacation from work. (For those who don't know the trip classification: A-class: without wife, B-class: without own wife, C-class: with wife, D-class: with kids…) Anyway, I'd have done the trip with family, but my son is a bit too young, and wife is not too fond on car travel – so my trip with a friend suited the family well. I had to promise to take family to the same trip later on, if the destinations are good.
So, the trip is now planned and set – well at least the flight tickets are bought. Some more details will need to be put between Dallas and Miami – that's why we are at the source of inspiration, Gallow's Bird. The beer list for the week proved to be more than good inspiration – American Craft Beer week had just begun. A couple of old good Sam Adams supported by some ale called 'Le Freak' ("combination of Belgian Trippel and American Imperial IPA") from San Diego (actually quite interesting and tasty beer, recommend to share the 0.65L bottle with friends.. hefty stuff) helped with the planning.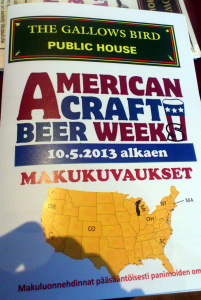 We got a great number of ideas what to do in Texas, Louisiana, Alabama & Florida, but admittedly no detailed plans yet, just a list of places to see and things to do. No point really sharing the list at this point of time, as the road trip can lead anywhere. At least Kennedy Space Center – and Katy Freeway with its 16 lanes (the road must be as wide as the Mannerheimin tie is long) will need to be experienced in Houston – and some surfing along the Gulf, and perhaps some Hemingway-style inspiration for writing in Key West.
The plan is to blog the trip on the way – so keep posted! A couple of days rough month to go.